When budgets are tight we need some great meals that don't cost a lot of money. Feeding a family for $5 or less per meal is an amazing accomplishment. Sometimes we don't actually know how much it costs to cook a meal or how much variety is possible with such a small amount of money.
Lucky for you I have compiled a list 100 meals that cost around $5 or less. In most cases recipes serve four, so those of you with more than two kids, like us, you will need to adjust accordingly and know that some meals will come in over $5 unless you find some amazing deals.
Don't think that this is a list of unhealthy meals because processed food is cheap. There are many healthy options as well as comfort foods and you can go gourmet or keep it simple. The point is that there is much variety to choose from. You can have great meals, stay on track with you food budget and serve you family healthy, wholesome meals all at the same time.
Without further ado:
The Mega List Of $5 Meals
Beef
Beef enchiladas       recipe girl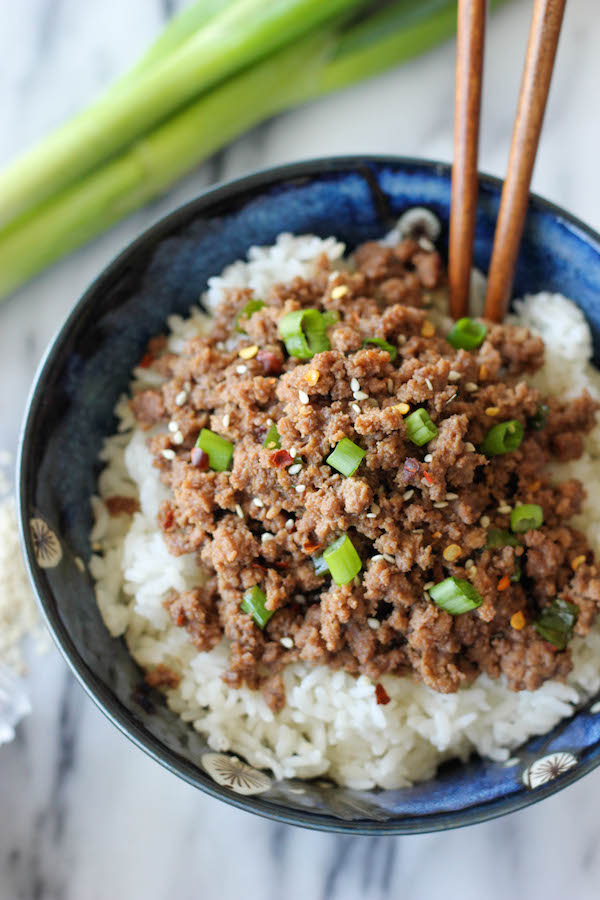 Korean beef bowl    damn delicious
Zucchini Casserole    married and harried
Beef Stroganoff and Salad   married and harried
Ravioli with Meatballs    married and harried
5 ingredient chili      gimme some oven
Barbecue beef stew      living on a dime 
Hamburger casserole         living on a dime  
Meatloaf    cheapism  
Church potluck casserole         a stroll thru life
Beef kebabs with orange glaze       my recipes
Garlicky beef and bean stir fry             feeding big
Crunchy beef and bean burritos       sprinkle some fun
30 minute shepherd's pie              food network
Crockpot stuffed peppers                  living on a dime  
Chicken
Roasted chicken and vegetables over cheesy broccoli rice a worthey read
Oven fried chicken with biscuits living on a dime
Chicken Supreme casserole living on a dime
Fajita quesadillas bhg
Chicken lo mein       cheapism
Cantonese chicken    spatulas on parade
Chicken fried rice     passion for savings
Tangy chicken thighs and slaw cheapism  
Chicken and dumplings    my recipes

Easy sesame chicken    budget bytes
Baked Chicken with Rice and Beans    married and harried
Southwest chicken skillet     budget bytes
Pasta
Crock pot lasagna kitch me
Green bowties saving everyday
Buffalo bacon shells and cheese whats cooking in the burbs
Creamy tomato penne the gracious wife
Easy spinach ricotta pasta   budget bytes
Baked ziti this big happy
Creamy mushroom herb pasta    budget bytes
Halusky    budget bytes
Pasta with butter tomato sauce    budget bytes
Spaghetti carbonara    budget bytes
Creamy pesto mac with spinach   budget bytes

Creamy Sundried tomato pasta budget bytes
Bacon and spinach pasta budget bytes
Easy southwest mac n cheese budget bytes
Creamy pesto pasta with broccoli and chicken budget bytes
Simple portabello pasta budget bytes
Parsley scallion hummus pasta budget bytes
Fish
Salmon with Roasted Potatoes and Tossed Salad   married and harried
Tuna Tossed Salad    married and harried
Tuscan Tuna with white beans my recipes
Baked tilapia with tomatoes budget bytes
Soup
Slow cooker taco soup kitch me
Potato bacon chowder living on a dime
Black bean soup well kept wallet
Golden coconut lentil soup budget bytes
Pressure cooker split pea soup budget bytes
Smoky tomato soup budget bytes
Apple Onion Soup   married and harried
Carrot Soup and Grilled Cheese   married and harried
Sweet potato tortilla soup budget bytes
Chunky lentil and vegetable soup budget bytes
Slow cooker white bean soup budget bytes
Pizza
Tortilla Pizzas with Apple and Cucumber slices     married and harried
Bacon and caramelized pineapple pizza budget bytes

Eggs Florentine Pizza budget bytes
Creamy spinach artichoke pizza budget bytes
Caramelized onion and artichoke flatbread budget bytes
Spicy Italian flat bread budget bytes
No knead pan pizza budget bytes
Vegetarian
Roasted corn, black bean and tomato salad my recipes
Eggplant Parmesan sarah lipoff
Vegetable Pot pie budget bytes
Warm Brussels sprouts and pear salad budget bytes
Kale Salad with spiced chickpeas and buttermilk dressing budget bytes
Plum salad with lemon ginger dressing budget bytes
Creamed Spinach baked eggs budget bytes
Grains
Rice and beans with grilled sausage and veggies happy deal happy day
Cous cous with spiced chickpeas cheapism              technically not a grain, but used like one
Cheddar grits breakfast bowls budgetbytes.com
Tomato herb rice with white beans and spinach budgetbytes.com
Spinach and chickpea rice pilaf budgetbytes.com
Mujaddara (seasoned rice and lentils) budgetbytes.com
Lemony kale and quinoa salad budgetbytes.com
Spinach rice breakfast bowls budgetbytes.com
Roasted poblano grits with chorizo budgetbytes.com
International
Taco salad closet cooking
Sour cream enchiladas living on a dime

Zucchini and potato frittata my recipes
Tamales   cheapism
Veggie tostadas    cheapism
Lamb kebabs with yogurt sauce my recipes
Migas my recipes
Good Ol' southern dinner delishably
Mexican sausage cornbread the practical saver
Creamy black bean taquitos budgetbytes
Colcannon      budget bytes
Lime shrimp dragon noodles budgetbytes
Sesame noodles with wilted greens budgetbytes
Chili rubbed pulled pork budgetbytes
Zucchini and corn frittata budgetbytes
Vegetable stirfry with noodles budgetbytes
Ham and Cheese Quiche and Strawberry Salad      marriedandharried